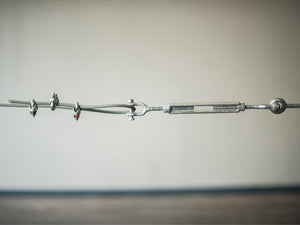 DIY - How to install Net & Hardware?
Just For Nets - How to install Net & Hardware is a video to show what kind of hardware you should have and how to set up the system to hang your nets up. You can apply this system to your garage, back yard, warehouse, or any place you named it.
You can find the hardware kit here: http://www.justfornets.com/heavy-duty...
You can find this 10 X 10 Dynamax Sports High Impact Golf Net here: http://www.justfornets.com/jfn-18-3-4...
Hardware you need for a 10 x 10 net: 
 Galvanized cable 
depends on your spacing
Eye Bolt
2
Turnbuckle
1
Cable Clamp
6 (3

 each side)

Spring Clip
10 

(should clip 1 every 1 - 2 ft)
Steps: 
1. Screw an eye bolt to the wall 
2. Extend the turnbuckle and attach it to the eye bolt 
3. Slide Galvanized cable through 3 cable clamps, make a loop through turnbuckle and slide the cable back through cable clamps again. 
4. Tighten the cable clamps.
Tips: If you want them to be more secure, turn the 2nd cable clamp upside down for better grip on the cable. 
5. Go to the other side, screw another eye bolt to the wall, and pull the cable tight by hand lock the cable with 3 more cable clamps.
6. Contract the turnbuckle to make the cable tight 
7. Clip the net to the cable with spring clips every 1 to 2 ft so it won't sag too much. 
8. Slide the net across the cable and your own net system is all set!
---